Ch. Darvicks Dreams Never Cease, DOM "Cece"
AKC: WP97112804 Sex: Female Color: Fawn DOB: 04/14/2000
Owners: Darlene Vickers & Korinne Vanderpool Breeder: Darlene Vickers
Cece was the only fawn colored bitch puppy in a litter of seven. There was never a doubt from the moment she took her first breath that she would be staying right here at Darvick Boxers. She has lived up to her name and proved that "Dreams Never Cease".
Cece placed third in her futurity class at ABC. On the way home from ABC, she got into some foxtails. One of the foxtails worked it's way up under her tongue and caused a huge abscess. We took her to LSU where they were able to remove the foxtail. The Vets were afraid that the lump under Cece's mouth might never completely go away. Cece liked one point to finish her championship, we accepted the fact that there was a possibility she could never show again. Six weeks later Cece showed us that Dreams Never Cease by entering the ring for the first time since the foxtail incident and finishing her Championship
Cece finished at 14 months old with three majors from the puppy classes and became Darvick Boxers' first homebred Champion. She won her first BISS, several BOB's, and her first group one before she turned 18 months old. She qualified for Top Twenty at 20 months of age in 2001 and again in 2002.
Cece is an absolute joy to live with. Cece is co-owned and loved by Korinne Vanderpool of Regal Boxers was handled exquisitely by Terri Galle.
| | |
| --- | --- |
| | |
Ch. HiMaster's Regal Fire Lord, CD, RN

Am/Can. Ch. Bayview Strides Ahead, Am/Can SOM, Am/Can LOM

Ch. Bridgewood's BK Kahuna, Am/Can SOM, Am/Can LOM

Ch. Telstar's Good Time Charlie, SOM

Ginger's Goldn' Glow

Ch. Glenroe Tequila Sunrise, DOM

Ch. Glenroe Rum Runner

Lyn-El's Daisy Mae

Ch. High Crest's Chances Are

Ch. Rosend's Corporate Raider, SOM

Ch. Bridgewood's BK Kahuna, Am/Can SOM, Am/Can LOM

Ch. Rosend's Stardust

High Crest's Amazing Grace

Ch. Bridgewood's BK Kahuna, SOM, LOM

High Crest's You Got It

Ch. Southgate's Dream A Lil Dream

Ch. Southgate's Judgement Day, AX, AXJ, CD

Ch. Southgate's Hi-Tone

Ch. Moss Woods Krispy Kritter

Sundowner's Fist Full Of Gold

Southgate's Walk On Faith

Ch. Bullock's Isaiah of Turo

Southgate's Angel of Mercy JM

Southgate's Anne' Oakley
(3 finished Champions)

Ch. Druid's Stones O'Burke

Am/Can Ch. Golden Haze Tuxedo, SOM, LOM

Ch. Claremor's Maeva O' Burkes

Tall Oak's Calamity Jane

Ch. Tall Oaks Desert Dazzler, SOM

Ch. King's Midnight Rendezvous

4th in Brood Bitch class at May 2004 ABC Nationals.
From Left to Right:
Ch. Darvick's Dreams Never Cease "Cece"
Ch. Darvick HiTech Regal Explorer" Polo"
Ch. Darvick HiTech Regal Monopoly "Parker"
Enlarge Image

May 2004 ABC Nationals
From Left to Right:
Ch. HiMaster's Regal Fire Lord, CD, RN "Reggie"
Ch. Regal Hitech Picasso of Darvick, CDX, RN, SOM "Pablo"
Ch. Darvicks Dreams Never Cease, DOM "Cece"
Enlarge Image
SHOW WINS

11-02-00 Boxer Club of OK, Eileen Pimlot, 1st 6-9 mo puppy

11-25-00 Saline County KC of AK, Thomas Conway, WB, BOS

01-20-01 Missisisippi State KC, Keke Kahn, RWB

01-28-01 Alexandria KC, Robert Caswell, RWB

02-02-01 Southeast Arkansas KC, Alvin Krause, WB, BOW, BOS

03-12-01 San Antonio KC, Bernard Esporite, RWB (major)

03-17-01 Houston KC, Beverly Capstick, WB, BOW, BOS (major)

03-24-01 Fort Worth KC, Ralph Ambrosio, WB, BOS (major)

03-25-01 Texas KC, Nelson Huber, WB, BOW (major)

06-23-01 Acadian KC, Arley Hussin, WB, BOW, BOS

07-14-01 Bexar County Kennel Club, Robert Stein, BOB

08-31-01 Bayou KC, Mrs Tomas Gomez, BOS

09-01-01 Bayou KC, Robert Stein, BOS

09-02-01 Vicksburg KC of MS, Mrs Robert D Smith, BOS

09-21-01 Dallas Boxer Club, Norton Moore, BOB

09-22-01 Ft Worth KC, Terry Temple, BOB

09-22-01 Ft Worth KC, Terry Temple, Group 1

10-17-01 Boomer Boxer Club, Lenora M Riddle, BOB

10-18-01 Mid-Del-Tinker KC, Patricia Gellerman, BOB

10-18-01 Mid-Del-Tinker KC, Karen McFarlane, Group 3

10-20-01 Canadian Valley KC, William Hempel, BOB

10-21-01 Town and Country KC, Robert Ligon, BOB

11-17-01 D'Arbonne KC, Jane Roppolo, BOB

11-17-01 D'Arbonne KC, Robert Ligon,Group 3

11-18-01 D'Arbonne KC, Robert Ligon, BOB

11-24-01 Saline County KC of AK, Alvin Krause, BOB

11-25-01 Saline County KC of AK, Donald Booxbaum, BOB

12-01-01 Olive Branch Mississippi KC, Norton Moore, BOB

!2-02-01 Memphis KC, Douglas Shipley, BOB

12-02-01 Memphis KC, James Noe, Group 1

12-06-01 Northlake KC of Greater Covington, Lee Brown, BOB

12-15-01 Meri-Miss KC, Roger Hartinger, BOS

12-16-01 Meri-Miss KC, Richard Chasoudian, BOB

12-16-01 Meri-Miss KC, Richard Chasoudian, Group 4

01-05-02 Nolan River KC, Sam F Burke Jr, BOB

01-05-02 Nolan River KC, Alvin Krause, Group 3

01-06-02 Nolan River KC, Carl Anderson, BOB

01-26-02 Alexandria KC, Loraine Boutwell, BOS

01-27-02 Alexandria KC, Judith Goodin, BOS

02-17-02 Colorado KC, Donald Booxbaum, BOS

02-18-02 Colorado KC, Judith Goodin, BOB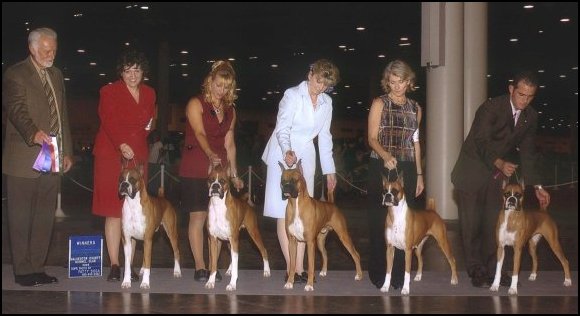 At Galveston Kennel Club, Houston, TX, July 23, 2006
Left to Right:
Darvick HiTech Regal Monoply "Parker" won BOS -- Cece son
Darvick Hi Tech Regal Tribute "Trevor" won BOW, WD -- Cece son
Regal's Heeere's Johnny "Carson" won RWD -- Pablo son, Cece grandson
Regal's Ten Acious Flame "Maggie" won WB -- Pablo daughter, Cece granddaughter
Regal's Rot Ten Miss Van Pelt "Lucy" won RWB -- Pablo daughter, Cece granddaughter
Darlene Vickers Jena, Louisiana 318-992-2031 Email